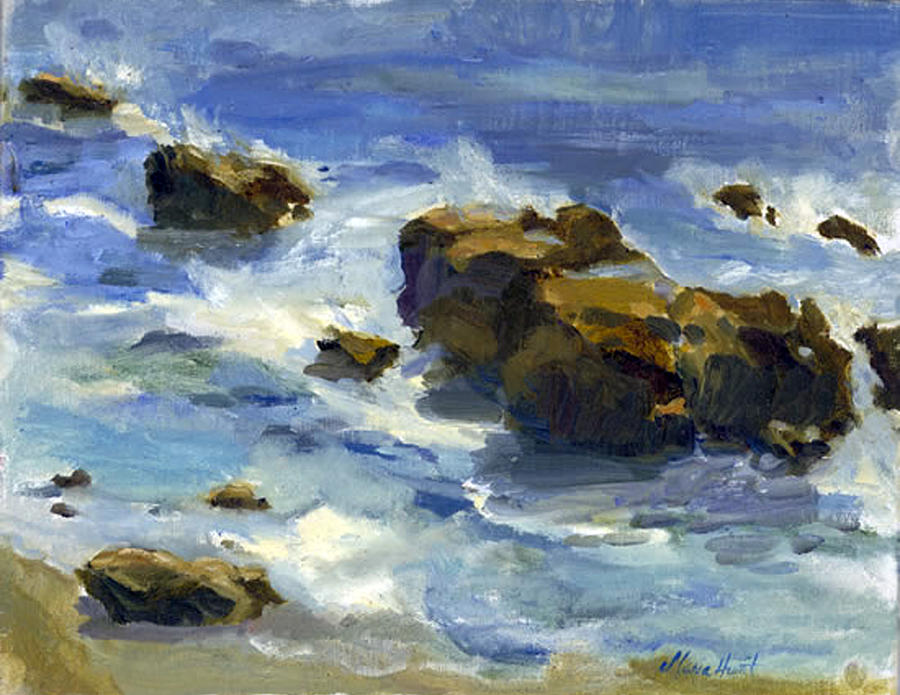 Title
Soothed By The Sea...
Medium
Painting - Oil On Canvas
Description
Standing above the shoreline, near Corona Del Mar, I found a grouping of rocks, with waves splashing as they rushed to shore. This was another rescued paintings from a plein air workshop in Orange County, California. The sunlight caused the rocks to glisten, but sound of the water washing the shore and splashing on the rocks was so soothing, it influenced the title.

Special AWARDS:
Peer Nominated Special Feature on 1000 Views 5/5/19
1st Place - Love of Water Contest 11/1/!8
Special Feature on 1000 Views 2/27/17
1st Place Tie Heatwave 2016 Contest - 8/9/16
3rd Place - Water Art Created by Hand Contest.

A special thank you to the following Fine Art America groups for featuring this painting.

FAA FEATURES:

The World We See (7/18/14)

Artists Best Five Paintings 07/20/2014

Old MASTERS - PAINTINGS 07/20/2014

3 A Day Waiting Room Walls 07/20/2014

25 Likes 07/28/2014

Images That Excite... 07/28/2014

Impressionists Of The 21st Century 08/01/2014

100 Views Traditional Art 10/10/2014

1 Weekly - ALL Stars 02/15/2015

Collectors Gallery 09/22/2015

FAA Featured Images Group 08/31/2015

1000 Views on 1 image 02/22/2017

Phenomenal Club 05/22/2017

Imagination-Artistry-Creativity 06/14/2017

Roar 05/29/2018

Impressionism 09/15/2017


Context:
California coast, Laguna beach, Corona del Mar, ocean scene, seascape, crashing waves, Southern California beach, beach sceneAll works showcased are Original art by American Artist Maria Hunt. All images are copyright . Use of this image without the express permission of the artist is theft.
Statistics
Viewed 3,279 Times - Last Visitor from Beverly Hills, CA on 09/20/2022 at 11:08 PM